Volunteer
What does a volunteer do?
The majority of our volunteers assist the day of the conference in three main capacities: Administration Volunteer, Workshop Leader or Topical Leader. An Administration Volunteer helps us to check-in the students when they arrive, coordinate lunch, help shuttle students from the different buildings and classrooms, and generally assists with behind-the-scenes activities. A Workshop Leader has a class of students, ranging in size from 10 - 20 and they lead a discussion on various topics pertaining to the conference.
The Workshop Leader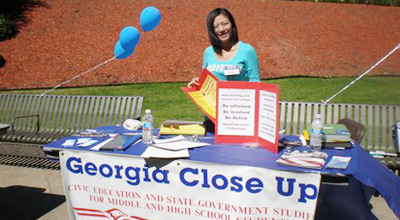 has the flexibility to choose discussion topics that interest him/her and to allow the students to take the discussion where they would like. The Topical Leader also has a class of students ranging in size from 15 - 25 and leads a seminar on a specific issue pertaining to the conference. This is much more structured than the Workshops and while topical do contain discussion, the discussion is centralized around a presented topic.
In addition to day-of volunteers, we are always looking for volunteers to help us year-round in many capacities:
Grant Writing
Speaker/Presenter Coordinator
Website Administrator
Hotel/Facility Coordinator
Curriculum Coordinator
Resources and Materials Development Coordinator
Public Relations Coordinator
What are the Benefits?
Some of the benefits include building leadership and public speaking skills, learning about non-profit management, working with youth, receiving mentoring from the staff, interns and other volunteers, the opportunity to give back to the local community, and ability to encourage others to seek out information and engage them in the pertinent issues affecting them today.
Volunttering Opportunities: "Enhancing Professional Growth & Personal Enrichment"
Join in the ranks of leaders in a global organization.
Contribute your experiences to help shape the future.
Connect with others of your profession; make new contacts.
Network with peers, technical experts, business competitors and others.
Contribute your time to your field of interest in a prestigious organization.
Gain valuable management and leadership skills for your career.
Expand your understanding of your chosen profession.
Improve the public perception and image of the community.
Volunteer According to your interests...
There are opportunities for you to:
Plan meetings
Chair a committee
Counsel, mentor students
Work with finance
Create/maintain a website
Pick a favorite subject:
Technical activity, competitions
Student Activities
Conference
Volunteering for the Georgia Close Up Foundation provides a once in a life time experience. This volunteer-driven organization is a resource for civic education, provides educational resources, hosts local activities of technical, professional, educational and social nature, and is a leader in standards development.
If you have any questions about volunteering please contact Ron at This email address is being protected from spambots. You need JavaScript enabled to view it.. You can Download Volunteer Registration form PDF or register as a volunteer for one of our conferences on the registration page. Download Volunteer Brochure PDF.
About our volunteers
Thank You to our current and past volunteers! Georgia Close Up would not exist without the commitment of time and effort by people in the community. They understand that teaching the next generation the nuts and bolts process of government is essential for creating possibilities and challenges. We would like to thank this year's conference volunteers.
Cody Kamin
Dana James
Stan Darden
Molly Darden
Partha Mukerjee
Aimee Lyons
Paulette Suggs
Glenda Barnes
Linda Anderson Hocker
Carol Ferguson
Ji Eun Park
Sungeun Bae
Katie Parker
Caline Jarudi
Kim Mitchell
Greta Thomas

Jr. Program Instructors:
Sissi Wang
Chiara Ausserdorfer
Thien Lam
Alice Ren
Jenny Lu
Steven Zheng
Stephen Chen
Min Soo Han
Lil' Joe
William Yu
Mike Cao
Jay Xu
Chau Nguyen
Yui Shinohara
Teachers, None of this would have happened without our teachers!
Big THANKS!
Regina Griffin, East Cobb Middle School
Marisa Cloud, East Cobb Middle School
Bob Bauer, Horizon School
Sarah Lillevik, Woodland Middle School
Nancy Smith, Woodland Middle School
Kwesi Carter, Romar Academy
Chris Billingsley, Decatur High School
Andrea Eifrid, Druid Hills High School
Thaddeus Rimmer, Atlanta Job Corps
Christopher Smith, Tucker Middle School
Tia Wilkes, Bartow Middle School
Past Volunteers
Speakers
We are especially grateful to the following government officials and elected legislators for their time and interest in meeting with our students and teachers in our previous civic education programs.
Former Governor Roy Barnes
Former Secretary of State Cathy Cox
Former Assist. Secretary of State Bob Ray
Senator Donzella James
Rep. Charles Bannister
Rep. Stephanie Stuckey
Rep. Nan Orrick
Facilitators
Many thanks go to the following facilitators, who made sure all the arrangements were made and the logistical concerns were met. Without this army of willing and enthusiastic volunteers our programs would be impossible.
Stephanie Caywood
Mary Harris, Registration
Greta Thomas, Registration
Trey Gibbs, Georgia Environment
Pam Ware-Brooks, LOB
Stu Downs, Transportation, Hotel Coordinator
Mindy Boynton, Twin Towers
Ron Thomas, Administrator/Chair Person
Dellie Reckitt, Foundation Advisor
Phillip Newton, Advisor
Peter Thomas, Program Coordinator
Program Instructors
Program Instructors are one of the most important components of our programs. PIs, as they are commonly called, exemplify 锟斤拷participatory citizenship". By way of workshops and seminars, our dedicated volunteer PIs spend time discussing and debating vital issues in small groups. It is in the workshops that most of the learning and exchange of ideas take place. Our programs are greatly enhanced by these two-day volunteer leaders.
2008 Program Facilitators
Javarus Dupree
Program Instructor 2008 Javarus is a senior at Douglas County High School, and he is excited about completing his high school career and entering the real world. He is looking forward to continuing his education by possibly entering trade school, or joining the armed forces.
Stephanie Hansard
Program Administrator 2007-2008 Stephanie is a 20 year old student from the Agnes Scott College. Her major is in Sociology and Anthropology. She is from Bremen, Georgia in the USA. At the moment she works as a research assistant at the Agnes Scott College focusing on refugees and welfare reforms. She speaks English and Spanish. She is taking part in the activities of the Georgia Animals Rights and Protection(GARP), Habitat for Humanity and Baptist Student Union. She was also the 2007-2008 Georgia Close Up Intern.
Partha Mukherjee
Program Instructor 2008 Partha grew up in Kolkata, India, but has lived in the U.S. since the early 1970s. He is a retired civil engineer, having designed construction plans and managed the maintenance of many structural facilities in the southeast for MARTA, AT&T and Southern Bell. He has taught high school students mathematics and mentored students through the Junior Achievement program. Partha enjoys playing bridge, acting in community theater productions, and studying religion (focusing on Hinduism) and politics. Additionally, he is a prominent member of the local Indian community. He spends some of his free time serving as a Bengali and Hindi translator for hospitals and courts around Atlanta.
Anne Oredeko
Program Administrator, Intern 2008 Anne is a senior at Oglethorpe University. She is an active member on campus from starring in plays to organizing events; she has participated in all of it. She will complete her degree in International Studies this May and she is looking forward to entering graduate school in the fall.
Francisca Oredeko
Program Instructor 2008 Francisca is a senior at Douglas County High School. She has been an active member of her student body since her freshman year. She has participated in her student government and many other clubs and activities. She is looking forward to graduating and entering college in the fall. She plans to major in business or economics and possibly pursue a career in politics.
Sara Peralta
Program Administrator 2006-2007 Sara is a bilingual student who graduated last May from Agnes Scott College. She won a impresive number of awards: Gozuieta Foundation Scholarship, Frances Winship Walter Academic Scholarship, and Villavieja Study Abroad Scholarship. She worked as program administrator and consultant for the Georgia Close Up Foundation and other relevant organizations as: Girls Incorporated of Greater Atlanta, Refugees Family Services and Refugees Service of Texas. She constantly took part of the Campus activities as: Student Representative for the President's Committee on Community Diversity, Vice-President & Founding Member of Latinas Unidas, Teach-in Presenter & Latina Rep, Campaign for the Living Wage, Vice-President of Outreach at Iota Iota Iota.
Franklin Thomas Jr.
Program Facilitator 1989-2008 Franklin is a defense attorney. He has practiced law in Georgia for over 15 years. He studied and graduated from the University of Georgia Law School, Talladega College in Alabama and the Lovett School. Franklin has been a Georgia Close Up volunteer for over 25 years.
Jr. Program Instructors
Min Shoo Cho
Min Soo Cho was born in Busan, Korea. He has traveled all around the world: China, Japan, Australia, Germany, Switzerland, Italy, the Netherlands, Belgium, France, Luxemburg, and Austria. He likes to play soccer and to make new friends. He believes that is always good to make new experiences and to challenge him in different situations. At the end of his studies, he plans to become a CEO in a big company, probably in Europe. His dream is to live in Germany. He arrived in the US recently and he has noticed that people here love to take care of each other. He thinks that the biggest problem in the world is poverty and in his life, he will take part in the solution.
Reina Shibata
Reina is 17 years old. She comes from Tokyo, Japan. She has already visited two big countries, Australia and America. She has many hobbies. She loves to cook, draw, play sports and host parties. She foresees her career as an event planner in the United States. She is really determined and patient. While in the United States, she observed that the food is really big in comparison to that in Japan. The biggest challenge in her life is to study English. She believes a good education will make her life better.
An Qi Cao
An Qi comes from Shanghai, China. She likes to read books and watch movies. She dreams of work in the international business sector. She is an outgoing person that loves to communicate. She still doesn't know where she will live in her life, but she has discovered that if you don't have a car, it is hard to move. In her opinion, the biggest challenge our world faces is war.
Hanh Nguyen
Hanh is from Tphem in Vietnam. She was visiting Singapore before coming to the United States. Her first impression of America is the reality of how different Vietnam and America are. Her hobbies are surfing the internet, studying languages, reading and shopping. She has many goals including the pursuit of an MBA and learning five languages. She will not forget that the biggest challenge in the world is poverty and she wants to establish a charity to help with the issue.
Hyun Su Jo
Hyun is a 16 year old student from Korea. He is from a city called Seoul. The United States isn't his first in world travels. Hyun has also visited China. His hobbies include soccer and making new friends. He still doesn't know if he will become a businessman or a lawyer. Hyun strongly believes that the biggest challenge of our time is global warming.
Yusuf Rabbani
Yusuf is a 14 year old from Kabul, Afghanistan. Yusuf has lived in three countries in the Middle East: Iran, Pakistan, and Azerbaijan. He enjoys playing soccer and drawing. Yusuf defines himself as a quiet and calm person who cares for cleanness. He would like to live in England when he completes his studies. When he came here to the US for the first time, many things impressed him, especially how people drive. Yusuf believes the biggest challenge for our world is facing global warming and the war. He says, "We are not looking out to find each other and we forgot how to appreciate nature."
Jinheng Sun "Kelvin"
Kelvin is an 18 year old student from Zhengzhou, China. He visited Singapore before coming to the United States. What impressed him about the US was that, in the evening, city streets are empty and the city is quiet. When he completes his studies in Public Management, he dreams of working and living in North Europe in countries like: Denmark, Belgium or Finland. Kelvin believes the biggest challenge in the world is the difference between the poor and the rich people.
Luisa Mejias
Luisa's nickname is Tuti. She is 17 years old and from Valencia, Venezuela. She has visited Aruba and Curacao. Tuti plans to become a journalist and to work in the media and communication sector. She is a positive person who loves always to learn new things. Luisa thinks she will probably reside in Atlanta after her studies. She has noticed that people her age in the US have a different perception of their life and responsibilities in comparison with Venezuela. Luisa believes that the big challenges for this world are the abuse of drugs and alcohol and especially driving under the influence.
Teachers
Teachers sometimes forget that they too are "participatory citizenship volunteers." Without their vision and their understanding for the need of extracurricular instruction, we would not be able to provide the kind of quality programs they feel is worth their valuable time out of the classroom. They are the ones who know the importance of exposing their students to additional educational and cultural activities. It is to them that we owe our deepest gratitude for their dedication in the field of education.
John House Lovinggood MS
Abbi Hurt, Inman Park MS
Sherri Stout, Whitewater MS
Nancy Graham, Booth MS
Charles Smith, Arnall MS
Leonard Winters, Arnall MS
Deborah Tummins, Daniell MS
Mary Scott, Salem MS
Walter Stephens
Assist. Principal Twiggs City
Mary Williams, South Atlanta HS
Vicki Howell, Lovejoy
Karol Peyton, Lovejoy
Lorri Stevens, Jonesboro MS
Vonda Shands, P D West

Audrey Mallory, Twiggs Co. HS
Thaddeus Rimmer, Atlanta Job Corps
Tina Pegram, Counselor, Pebblebrook HS
Carol Murphy, Bremen HS
Katie Linquist, BT Washington HS
Jackie Angel, Milton HS
Mary Murphy Orendine, Sewell HS
Barbara Beyke, McEachern HS
David Shumake, Principal Gainesville HS
Dulce Gonzales, Counselor, Marietta HS
Malinda Blacksburg, Campbell MS
Susan Caster, Milton HS
Testimonials
Ron,Thank you for giving me this unique opportunity to work with students that were interested in public health. I believe the Youth Health Conference increased awareness on important public health issues to both high school students and volunteers. It exposed students to interesting everyday issues, potential career paths, and taught them the importance of a healthy life-style, from sexual behaviors to eating right. Thanks again and I hope I will see you at the follow-up session.

Sincerely,
Yvonne Yuen
Emory University