Page 1 of 3
Volunteer
What does a volunteer do?
The majority of our volunteers assist the day of the conference in three main capacities: Administration Volunteer, Workshop Leader or Topical Leader. An Administration Volunteer helps us to check-in the students when they arrive, coordinate lunch, help shuttle students from the different buildings and classrooms, and generally assists with behind-the-scenes activities. A Workshop Leader has a class of students, ranging in size from 10 - 20 and they lead a discussion on various topics pertaining to the conference.
The Workshop Leader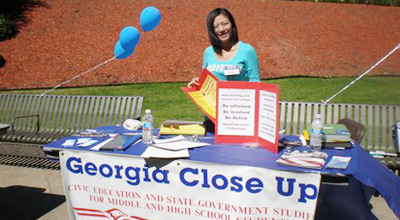 has the flexibility to choose discussion topics that interest him/her and to allow the students to take the discussion where they would like. The Topical Leader also has a class of students ranging in size from 15 - 25 and leads a seminar on a specific issue pertaining to the conference. This is much more structured than the Workshops and while topical do contain discussion, the discussion is centralized around a presented topic.
In addition to day-of volunteers, we are always looking for volunteers to help us year-round in many capacities:
Grant Writing
Speaker/Presenter Coordinator
Website Administrator
Hotel/Facility Coordinator
Curriculum Coordinator
Resources and Materials Development Coordinator
Public Relations Coordinator
What are the Benefits?
Some of the benefits include building leadership and public speaking skills, learning about non-profit management, working with youth, receiving mentoring from the staff, interns and other volunteers, the opportunity to give back to the local community, and ability to encourage others to seek out information and engage them in the pertinent issues affecting them today.
Volunttering Opportunities: "Enhancing Professional Growth & Personal Enrichment"
Join in the ranks of leaders in a global organization.
Contribute your experiences to help shape the future.
Connect with others of your profession; make new contacts.
Network with peers, technical experts, business competitors and others.
Contribute your time to your field of interest in a prestigious organization.
Gain valuable management and leadership skills for your career.
Expand your understanding of your chosen profession.
Improve the public perception and image of the community.
Volunteer According to your interests...
There are opportunities for you to:
Plan meetings
Chair a committee
Counsel, mentor students
Work with finance
Create/maintain a website
Pick a favorite subject:
Technical activity, competitions
Student Activities
Conference