About Georgia Close Up
Volunteer community leaders dedicated to the promotion of civic education for American Citizens. A non-profit, non-partisan organization associated with the Close Up Foundation.
Mission Statement: Georgia Close Up's mission is to encourage informed active citizen participation in the democratic process and for young people, teachers, and citizens of all ages to gain a practical understanding of how public policy affects their lives and how they can affect public policy. Georgia Close Up is committed to developing new and better ways for young people to become effective participants by providing a balanced perspective on issues.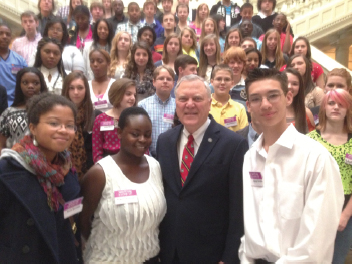 History
For the last 30 years, Georgia Close Up has conducted over 75 local programs on topics ranging from state legislation to public health or the environment. More than 5,600 students, teachers, parents and senior citizens have participated in our local education programs. With a small grant from the Close Up Foundation, community support, and a host of volunteers, Close Up has been able to bring speakers such as Former President and Governor Jimmy Carter to our conferences. Other guest speakers who have participated in Georgia Close Up programs include Former Ambassador and Mayor Andrew Young, Former Governors Zell Miller and Roy Barnes, Secretary of State Cathy Cox, Lieutenant Governor Mark Taylor, Former Congressman Ben Jones, Former Texas Governor Ann Richards, civil rights leaders Julian Bond and Vernon Jordan, as well as countless state representatives, dignitaries, officials, experts and specialists who have addressed participants on different issues throughout the years.
Legislative Conferences
Each year, Georgia Close Up has two special conferences focusing on legislation at the state level for middle and high school students at the Georgia State Capital. Some of our objectives are to heighten political and social awareness among our participants, fill a need for law and civic education outside the classroom, and reinforce the idea that individuals can make a difference in our community through civic activism. During these two-day conferences, Georgia Close Up's team of trained program instructors and site coordinators provide intensive discussions on legislation as it relates to young people. Students have the chance to meet with their state legislative representatives, tour the Capital, and find out how the legislative process works. During the conference, real legislative bills are debated and voted on. The results are forwarded with accompanying letter from the students to each state senator and representative. In the words of Georgia Close Up's Chairperson, Ron Thomas, "The program is designed to put students in the drivers seat, down in the trenches of state government activities. When participants walk away, they are never the same."
Middle School Legislative Conference @ the Georgia State Capitol
(Programs are designed for Middle School grade levels 6-8)
February 24, 2016
March 2-3, 2016
March 15-16, 2016
High School Legislative Conference @ the Georgia State Capitol
(Programs are designed for High School grade levels 9-12)
March 9, 2016
Georgia Close Up Civic Education Program
Youth Legislative Conference
Schedule of Activities
Georgia State Capitol
1st Day
9:00-9:15am
Participant Registration
Coverdale Legislative Office Building(CLOB) Room 406 18 Capitol Square, 30334, (directly across from the Capitol) 9:
9:20-10:45am
Opening Session Observation
Students will meet on the fourth floor of the Capitol to enter into the House Gallery to observe opening session of the House Of Representatives. Doors close at 10am
10:50-11:00am
General Session
The Coverdale Legislative Office Building(CLOB)Room 406 Program Overview: Ron Thomas, Introduction of Volunteers
11:10-11:50am
Topical Teasers
Each Program Instructor will do a 10minute introduction presentation on the topical he or she will facilitate on Thursday. Each student will select one topic from a list of issues to attend.
a. Animal Rights vs Human Rights, House Bill number 93
b. Gun Rights and Restrictions, House Bills 35,248 SB,33,74
c. Capitol Punishment, House bill 355
d. Violence, and the way we live HB 339,SB 147
1:00-1:45pm
Legislative Meetings and Briefings,
Students meet with their State Representative or Senator. Groups will leave after Lunch and walk to the State Capitol, Room 125 for their respective Representative meetings.
1:50-2:30pm
Group Workshops
Students will transfer to the Trinity United Church on Washington St. Program Instructor will lead the discussion on any of the bills listed on the Bill summary sheet.
2nd Day
9:00-9:20am
General Session
Participants will meet in the Georgia State capitol, 2nd floor on the north end
9:25-9:45am
Group Photo with Governor Deal
Students/teachers and PI's will gather inside the Capitol on the North Steps.
10:00-10:40
Workshops
Program instructors (PI's) will lead an introductory activity for workshop participants. Start the discussion of what are the 3 most important bills facing conference participants Refer to your composite list of bills
10:45-11:30am
Real Topicals II (Select one to attend)
1:10-1:40pm
Final Group Workshops III Trinity United Methodist Church
Wrap up discussion on issues and talk about a legislative remedy. We will also work on letters to legislators.
1:45-2:20pm
General Session: Student Panel Trinity Fellowship Hall
Student Panel: representative students from each school should be identified to serve on an issue panel. Remaining students will pose questions to panelists.
2:20-2:30pm
Closing General Session
D ebriefin g of gen eral legislation,
Statement of Conclusions
Final voting, Evaluations turned in
2:30pm
Adjournment
 To download our program click here
Georgia Close Up 404 696 3092