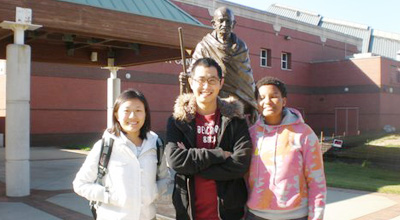 Ron Thomas, Volunteer Chairperson
Ron is the Chairperson of the Georgia Close Up Foundation. Being a Realtor, Building Contractor, and Sole Proprietor of RT Properties in Atlanta, GA, he is a man of many talents. Ron was born in Detroit, Michigan and attended high school in Denver, Atlanta, and Montclair, NJ. Graduating from Talladega College in 1974, he earned a B.A. in Pre-Law and History. Ron minored in Political Science and Art. Ron served as a YMCA Camp Counselor and Director from 1968 to 1973. He has also worked with the International Camp Counseling in Lebanon from 1974-1977.

Ron's professional teaching experience spans over a 13-year period in Beirut, Lebanon, Sharjah, United Arab Emirates, and Atlanta Public Schools. He has been a professional educator for 34 years. Prior to founding Georgia Close Up, he worked as an active volunteer for the Close Up Foundation out of Washington, D.C.
Contact Ron at This email address is being protected from spambots. You need JavaScript enabled to view it.
2016 Staff
Franklin Thomas, Legislative Liaison
Franklin Thomas currently serves as Georgia Close up Local Program Administrator.  With over 25 years of State, Federal and Municipal government experience, Franklin has served as an attorney in the City Attorney's office in Atlanta georgia in the areas of Public Safety and Administrative Law.  A graduate of Talladega College and the University of Georgia School of Law, Franklin has participated as an administrator instructor and/or  speaker with Georgia Close up for over 15 years.
Chloe Jackson, Program Administrator
Chloe Jackson is from Los Angeles, CA and has received her undergraduate and master's degrees in African Studies.  Growing up in the inner city of Los Angeles combined with her rigorous studies have inspired her passion for working with youth in transitions.  These transitions include;  From foster care to emancipation/adulthood, high school to college and/or the juvinile justice system to society.  This passion translates to her current research interests; juvenile offending, recidivism, criminal justice policy and African American young men.  In addition, Chloe hopes to establish a nonprofit organization that provides transitional services to youth, ages 18 to 24, exiting the criminal justice system in the future.  This interest in criminal justice policy and non-profit management has led her to her current position with Georgia Close-up.
Jonathan Kenner, Web Manager

Jonathan Kenner was born in Detroit and raised in the Metro Detroit area. He attended Southfield Public Schools and graduated from Southfield Lathrup Senior High. Jonathan enjoyed a variety of extracurricular activities during his school years including basketball, baseball, chess club and orchestra as a violinist. Jonathan chose Wilberforce University to pursue studies in Computer Information Systems.  As a student at Wilberforce, Jonathan was a member of the Student African American Brotherhood Organization, The Male Think Tank Program and the Peer Mentor Program for Middle School Students. Jonathan also served as an advisor, mentor and tutor in the Wilberforce Step UP summer program. Jonathan graduated from Wilberforce University with a Bachelor of Science in Computer Information Systems in May of 2011. He has held employment positions in the areas of sales, marketing and computer systems. He is now a resident of Atlanta, Georgia. Contact Jonathan Kenner at This email address is being protected from spambots. You need JavaScript enabled to view it.
 Jaira Burke, Program Administrator
As an International Economics and Modern Languages student in Georgia State University's Andrew Young School of Policy Studies, Jaira Burke feels an inherent and inexorable commitment to the welfare of mankind, domestically and abroad. It is this unrelenting passion for humanity that has inspired her to intern for Georgia Close Up Foundation for over a year. Burke enjoys helping students become  empowered through public policy education and appreciates how passionately involved they get while attending GCUF conferences. At Georgia State, Jaira Burke serves as the president of International Justice Mission, is an opinions columnist for the GSU Signal Newspaper, and is a member of the Economic Planning and Development Club. Jaira Burke is also currently a member of the Georgia Economic Developers Association where she serves on the Business Retention & Expansion, Public Policy, and Professional Development committees.
Ms. Burke takes interest in global social injustices and has served as a grassroots lobbyist for the Commercial Sexual Exploitation of Children and United Students Against Sweatshops throughout the entirety of her collegiate tenure. She has also received a professional certification in Social Entrepreneurship from the University of Pennsylvania. Upon graduation, Jaira Burke plans to serve in the Peace Corps and pursue a Masters in International Affairs and Juris Doctor so that she may practice International Law.
Ms. Burke plans to work in the field of International Relations in collaboration with nonprofits, non-governmental organizations (NGOs), and government entities to develop programs that support the social and economic stability of minorities and developing communities. Burke is increasingly passionate about using economic empowerment as a tool to mobilize individuals and strengthen markets. In June 2015, Ms. Burke will begin working with International Rescue Committee as a Resettlement Services Intern where she will utilize her proficiency in Spanish to economically empower recently displaced refugees through cross-cultural assimilation training and professional development.  
Bibiana Aguero, Lead Graphic Design Coordinator
As a graphic designer, Bibiana sees the world through visual design. She often looks at the world around her through an artistic lens. This view is so intrinsic to her nature, that when she sees advertisements,for example, she critiques them, and she looks everywhere for her work to draw inspiration from. Bibiana is fluent in English, Spanish and French. Having lived in Colombia, U.S.A, and Canada, she considers herself a nomad. Bibiana now resides in Atlanta, with a BFA in Graphic Design and a minor in Photography from SCAD. When it comes to her work, her weapons of choice are Lightroom 5 and Photoshop CC for photo manipulations, compositing and editing. Her next weapon is then Adobe Illustrator for vector designs. She is a very keen user of Adobe InDesign to produce printwork and Adobe DreamWeaver to design for the web and mobile devices. She sees her involvement with Georgia Close Up as a way to connect her designs with social awareness and to perpetuate global respect. See her portfolio at www.bibianart.com
Kimberly Coleman, Legal Consultant
2011-2013 Staff

Franklin Thomas, Legislative Liaison

Franklin Thomas currently serves as Georgia Close up Local Program Administrator.  With over 25 years of State, Federal and Municipal government experience, Franklin has served as an attorney in the City Attorney's office in Atlanta Georgia in the areas of Public Safety and Administrative Law.  A graduate of Talladega College and the University of Georgia School of Law, Franklin has participated as an administrator instructor and/or  speaker with Georgia Close up for over 15 years.
Emily Lauter, Program Administrator Intern
Emily Lauter is currently studying Public Policy at Georgia State University with a minor in Sociology.  Originally from Atlanta, Emily's involvement in public policy issues has roots in her desire and hopes of one day making the Atlanta community a much  better place to live. By living in Atlanta, most people become desensitized to community concerns like the  homeless problem or transportation issues. However living and going to school in the Atlanta area has  just motivated Emily to  try and do more and seek ways to help. She wants to work for a non-profit organization after graduating with the strong belief that helping our community will make society better as a whole . She has worked with numerous organizations in the past including Amy's Party which helps "at-risk" youth enjoy the holiday season. She took on a leadership role helping to plan events and organize volunteer efforts.  Emily is excited to work with Georgia Close Up because it means getting students involved with public policy at a young age and  helping them see that their voices matter and that they will be able to incite change with their activism. She's  looking forward  to working closely with teachers and students to emphasize their potential  impact on our community and the world in general.
Sidney S. Chiang, Graphic Design Coordinator

Sid was born in the city of Taipei on the island of Taiwan 1958 and is the oldest of three children.  His father left
the family in 1964 to complete his engineering degree at the University of Alabama.  In 1969, the entire family
immigrated to Dearbon Michigan where father, James, was employed as an electrical engineer at Ford Motor
Company.  Sid graduated from Center for Creative studies in Detroit Michigan in 1985 with a BFA in  Transportation Design.  He was employed at Ford Design Center, Dearborn Michigan.  In 2000, he left Ford to join GM's  Advanced Design Staff in Warren Michigan.  In 2011, he tok on a new position with the Volvo Truck Group in Greensboro NC as the new Mack Cheif Designer.  Sid has 28 years esperience in Automotive Design as well Graphic and Industrial Desing.  He is married and is the father of two boys.  Contact Sid at This email address is being protected from spambots. You need JavaScript enabled to view it.

Jonathan Kenner, Web Developer

Jonathan Kenner was born in Detroit and raised in the Metro Detroit area. He attended Southfield Public Schools and graduated from Southfield Lathrup Senior High. Jonathan enjoyed a variety of extracurricular activities during his school years including basketball, baseball, chess club and orchestra as a violinist. Jonathan chose Wilberforce University to pursue studies in Computer Information Systems.  As a student at Wilberforce, Jonathan was a member of the Student African American Brotherhood Organization, The Male Think Tank Program and the Peer Mentor Program for Middle School Students. Jonathan also served as an advisor, mentor and tutor in the Wilberforce Step UP summer program. Jonathan graduated from Wilberforce University with a Bachelor of Science in Computer Information Systems in May of 2011. He has held employment positions in the areas of sales, marketing and computer systems. He is now a resident of Atlanta, Georgia. Contact Jonathan Kenner at This email address is being protected from spambots. You need JavaScript enabled to view it.

2009-2010 Intern Staff

Amber Sansbury, Program Administrator
Amber Sansbury is a proud native of Columbus, Georgia. She graduates this fall from Georgia State University with a bachelor's degree in Middle East Studies; the degree focused in Arabic, Islam, cultural and socio-political networks in the region, and colonialism. During college, Amber has been the GSU Presidential Scholar with the Middle East Institute. Amber was a part of GSU's prestigious 2007-2008 Model Arab League team and won Outstanding Delegation and Honorable Mention awards, working with her teammate on the Social Affairs committee. Amber recently returned from an academic year abroad as a National Security Education Program Boren scholar at Al Akhawayn University in Morocco. In addition, Amber has served as a GSU resident assistant and camp counselor; after four summers of camp counseling, Amber acted as the Activities Director for Camp JOY this summer. She enjoys enriching the lives of students and is excited about her Georgia Close-Up opportunity. Amber looks forward to emphasizing a global focus for Georgia youth and hopes to impart the vitality of civic leadership fueled by educated voices. Amber plans to begin graduate school studying Political Science in Fall 2010; she will investigate the use of violence by political dissident movements and terrorist groups, considering the utilization or nonuse of violent force by governing powers in reaction. In the future, she aspires to serve in various foreign policy institutions and Congress. Her ultimate goal is to represent Georgia well as a United States senator. Contact Amber at This email address is being protected from spambots. You need JavaScript enabled to view it..

Aishwarya Nekalapudi, Web Designer
Aishwarya was born in Hyderabad, India. She is pursuing her Masters degree in the field of Computer Science from Southern Polytechnic State University. She is an active member of International Students Association at Southern Poly. She appreciates the work of Georgia Close Up and wants to contribute her part in bringing awareness in the society especially students, who are the future wealth of the nation. Aishwarya believes that with the combination of her experience and education she can take our information systems into a new direction and give a fresh look which would grab the attention of everyone, educate and make a difference in society.


Nathalie D.Rodriguez, Graphic Design Coordinator
Nathalie works as a Coordinator in our graphics design. She manages creation and re-designs: contracts, banners, flyer's, brochures, letters and all kind of the Georgia Close Up institutional papers and videos. Nathalie also has experience teaching seminars and courses about designs, communications and leaderships. She was born in Cordoba, Argentina. On December 2009, Nathalie received her degree in Professional Journalism from "Colegio Universitario de Periodismo Obispo Trejo y Sanabria" College. In her country she is also a volunteer in Press and Communication Department of a civil foundation calls "Pueblo Pirata" and works for an event planning organization called Olivermoon. Nathalie likes designing and she is progressing with new assignments every day. She believes that everything in communications needs a great design to transmit a better understanding of a message. Nathalie hopes to help and join different cultures and experiences of life in the Georgia Close Up Conferences. Most of all, she wants to transmit to young people the magnificent of understanding humanitarian and environmental problems, so that they see the significances of their part. Contact Nathalie at This email address is being protected from spambots. You need JavaScript enabled to view it.

Xuange Liu, Graphic Design Coordinator
Xuange serves as our Graphics design Coordinator for Georgia Close Up. She was born in Beijing, China. She is currently a senior at Southern Polytechnic State University and will graduate at the end of this year. She will also receive a B.F.A in English from North China University in Technology. Xuange served as secretary in NUCT-SPSU program, a graphic design tutor in college, and a interpreter during her two years in the United States. Xuange has passion in education and loves to work with students. She is committed to utilize her talents to create fresh and energetic program documents and websites. She hopes that her design is able to inspire our young participants. Xuange is glad to share her understanding of how studying public policy can change young person's life through a chinese perspective. Xuange is currently pursuing a Master degree in Education. In the future, she aspires to serve as a high school teacher or a professor in an institution. Contact Xuange at This email address is being protected from spambots. You need JavaScript enabled to view it.

Qian Sun, Information System Analyst
Qian serves as our Information System Analyst for Georgia Close Up. He will graduate at the end of this year, with one bachelor degree in Computer Science and Technology from Northeast Normal University, China, and another in Computer Science from Southern Polytechnic State University, GA. Qian is currently pursuing master degree in Information System. At Southern Polytechnic State University, Qian was on Dean's List and was elected to member of Alaph Chi, which is the national college honor society for the top ten percent of juniors, seniors and graduate students. At Northeast Normal University, he gained a Social Practice Scholarship and was selected as "Campus Representative," by conducting big campus events with sponsors. In his spare time, Qian engages in volunteering in different programs or organizations, such as, Chinese Friendship Association at Southern Polytechnic State University, "NUCT-SPSU Program" at Southern Polytechnic State University. He is committed to utilize his skills in programming languages to set up a fresh Email system and maintain our website, so that our program can better address public policy issues to youths. This email address is being protected from spambots. You need JavaScript enabled to view it..
2008-2009 Intern Staff
Anyie Li, Program Administrator
Anyie serves as a Program Administrator for Georgia Close Up. She was born in Seattle, Washington. Graduating from the University of Washington in 2008, she earned a B.A. in International Studies. She also minored in Human Rights and Law, Societies, and Justice. She has also served as the Assistant Program Coordinator for the Oxford Institute for Environmental Education. Anyie is passionate about international education and cross-cultural exchange. Anyie was an Assistant Youth Counselor to the International Rescue Committee. She is committed to promoting international understanding and hopes to inspire youth to exercise their rights and be engaged in the democratic process through the Georgia Close Up Foundation.

Marian Ward, Program Administrator
Marian serves as a Program Administrator for Georgia Close Up. She was born in Augusta, Georgia. Marian earned a B.A. in Biology from Fort Calley University. She is currently pursuing a Masters in Public Health at Walden University. She has been a Federal Officer since 2000. She is CPR and First Aid Certified. From 1998 to 2000, she was a high school and college tutor and counselor. Marian believes the most important aspect of international studies is the pursuit of an understanding of the multiple fields that are involved in global issues. She is committed to create an environment where this learning can take place, and it is empowering to know that this knowledge is crucial to addressing contemporary global issues.

Maria Black, Graphics Coordinator
Maria serves as the Graphics Coordinator for Georgia Close Up. She was born in Atlanta, Georgia. She is currently a senior at Savannah College of Art and Design, Atlanta Campus. Maria will receive a B.F.A. in Graphic Design in June of 2009. She lives in the Metro-Atlanta area with her husband of four years and her two beautiful daughters. Maria has a strong belief that graphic design should serve to educate others. She is committed to utilizing her talents to inform others about important and vital programs in our society such as the Georgia Close Up Foundation.
Ash Blankenship, Public Affairs Administrator
Ash serves as a Public Affairs Administrator for Georgia Close Up. A recent transplant to Atlanta, he previously lived in Poughkeepsie, NY where he worked as a Team Lead for Xerox Corporation. He is currently pursuing a B.A. in Political Science from SUNY Empire State College and is a member of the Young Democrats of New York and the American Political Science Association. An avid runner, writer and photographer, Ash enjoys simple things in life and has a passion for people. Ash understands the value of America's youth and their effect on state and federal Government and is happy to be engaged with an organization that shares these values.

Lucile Chneiweiss, Student Participant Coordinator
Born in 1988 in France, Lucile Chneiweiss is a 3rd year student of Public Policy in the course of a 5 years Masters program towards a Masters in Public Affairs; or Master en Affaire Publique at Sciences Po Paris (Institut d'Etudes Politiques de Paris). As a French student, Lucile entered Sciences Po after her Baccalaureate in 2006, stayed for two years in Sciences Po then spent one year in the Georgia Institute of Technology (Georgia Tech), Atlanta GA (2008-2009). Lucile has been majoring in Public Policy at Georgia Tech, and followed several environment oriented courses that helped her forge some expertise in the domain of environmental concerns. In 2007-2008, she worked as a Parliamentary Assistant for a French Member of Parliament (Arnaud Montebourg, PS, Saone et Loire) at the Assemblee nationale where she experienced firsthand the legislative process, concerns, research, and parliamentary work. She is a volunteer at Georgia Close Up where she helped organizing the Youth Environmental Conference and establishing contact between the association and high school volunteers, and at LaAmistad where she helps middle school pupils with their afterschool homework and study.