Here are 30 Years of Program Highlights
Take a look at the wide variety of conferences we have hosted.
2009 Legislative Youth Conference
Each year, Georgia Close Up has two conferences focusing on legislation at the state level for middle and high school students at the Capital Education Center (CEC). Some of our objectives are to heighten political and social awareness among our participants, fill a need for law and civic education outside the classroom, and reinforce the idea that individuals can make a difference in our community through civic activism. During these three-day conferences, Georgia Close Up's team of trained program instructors and site coordinators provide intensive discussions on legislation as it relates to young people. Students have the chance to meet with their state legislative representatives, tour the Capital, and find out how the legislative process works. During the conference, bills are debated and voted on. The results are forwarded with accompanying letters from the students to each state senator and representative. In the words of Georgia Close Up's Chairperson, Ron Thomas, "The program is designed to put students in the drivers seat, down in the trenches of state government activities. When the participants walk away, they are never the same."
Our 2009 Legislative Conference took place March 3, 4, & 5. During the three-day conference students had the opportunity to vote and debate on bills. This year's ballot results can be found on the 2009 Legislative Ballots Results document. (PDF).
International Relations Symposium
A Middle School program held at the Carter Center on November 6, 2008.
"The Roles and Responsibilities of a World Citizen"
A Young Persons Perspective
Students were given the opportunity to learn more about the state of the world focusing on topics such as conflict and war, terrorism, world religions and politics, health conditions throughout the world, and human rights. They had a chance to express their opinions on global challenges and come up with some solutions to pressing problems. A special focus was placed on the United Nations Declaration of the Rights of a Child. A better understanding of this document and our focus on it has helped students understand their role and responsibilities as world citizens.
Evolving Lifestyles and Public Health Issues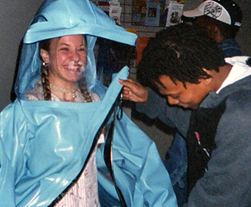 March 2003-2007, 1999, and 1992. Sites: Center for Disease Control, Emory University. Highlight: Emerging Infectious Diseases.
Human Rights: Thinking Globally, Acting Locally
December 2006-2008. Site: Carter Presidential Library.
State Government Conference
February 2000 Georgia State Capitol: Special Session with Governor Roy Barnes
Peace and Conflict
October 1994. Site: Carter Center and C-Span Teleconference. Highlight: Guest Speaker-Former Governor and President Jimmy Carter.
Crisis on our Coast
Nov. 1991. Site: Savannah Science Museum. Highlight: Natural animal preserve.
Conflict Resolution / Peer Mediation
1998 Site: Martin Luther King Center: Highlights: Museum and Tour
Democratic National Convention July 1988
Site: Convention floor. Highlight: C-span taping with Vernon Jones and photo-op and Q and A's with Former Governor Ann Richards
Violence in our Midst December 1986
Highlight: Guest speaker-Former Mayor, Ambassador Andrew Young
Georgia Close Up Past Participating Schools
Cook Elementary
Miles Elementary
Belmont Hill Elementary
Hawthorne Elementary
Kedron Elementary
North Fayette Elementary
Creek View Elementary
Madison Elementary
Westside Elementary
The Bedford School
Romar Academy
Inman Middle School
Jean Childs Young Middle School
Jonesville Middle School
Clarke Middle School
MD Roberts Middle School
North Clayton Middle School
Riverdale Middle School
Lost Mountain Middle School
Simpson Middle School
Cedar Grove Middle School
Henderson Middle School
Redan Middle School
Sequoyah Middle School
Booth Middle School
Holcombe Bridge Middle School
River Trail Middle School
Dutchtown Middle School
Lamar County Middle School
Lithonia Middle School

Romar Middle School
Oglethorpe Charter Middle School
Cartersville High School
Horizon High School
North Atlanta High School
South Atlanta High School
Therrell High School
Oak Mt Academy
Harrison High School
Pebblebrook High School
East Coweta High School
Newnan High School
Northgate High School
Stephenson High School
McIntosh High School
Northview High School
Tech Career Academy
Loganville Academy
Twiggs County High School
Central Gwinnett High School
Chattahoochee Valley Home Schoolers
Cherish Christian Home Education Inc.
Coastal Georgia Home School
Association Coffee County Home Educators
Gwinnett Christian Home Educators
Henry County Home Education
Home School Friends of Roswell
Thomasville Home Education Network
Truth Apostolic Home School Fellowship