Hello Students! Welcome to the Student Section. Please use the links below to find more information about our programs and opportunities. The links can help you better understand what our conferences are like as well as how to prepare. Please also take a look at our new Contest!
How to prepare...
1. Read through your Perspective Handbook. (Will be given to teachers the week before the conference)
2. Make a list of important issues to you (will be given a chance to discuss at the conference).
3. Research issues that are important to you and the ones on this site in order to have a better understanding of conference topics.
4. Talk with your friends and find out what issues are most important to them.
5. Bring a recent article to discuss.
6. Have a positive attitude!
Rules & Information
We are pleased that you have decided to join us at our state Capitol. Your capitol visit is going to be a very fast-paced schedule of activities, full of educational experiences and stimulating encounters. What we want most from this conference is for you to take advantage of the exchange of ideas and learn a little about our state government and the many issues that are directly related to you. Remember you will be representing your part of Georgia, so be a good listener and diplomat.
General Activities: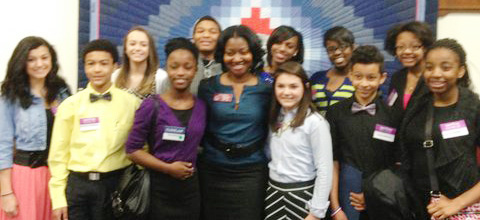 Please check your schedule. Most of our time will be spent in the Capitol Education Center and the State Capitol. You will see many legislators walking to their next meeting or in their office. All of them wear badges to they can be identifies. Look for them. Encourage your guide to stop and talk with them about what you are doing in the capitol. Try to visit with at least two representatives before you leave. We have already scheduled a meeting with your specific state representative, so reach out to others.
Attire and Dress Code: We encourage everyone to look their best. The Capitol is a very formal environment, and most people wear suits, ties, and dress wear. However we want you to be yourselves. If you decide to wear jeans, wear a nice shirt and tire, sport jacket, or blouse to offset a too casual look. We will be doing some walking, so please wear something comfortable and warm. Please be prepared for weather conditions.
Security: Keep in mind that we will be going in and out of the Capitol and other state buildings. Travel lightly and avoid things that will cause a slow down at the security metal detectors, such as walkmans, metal jewelry, and large sets of keys. Avoid bringing book bags and large purses that will need to be searched. You will be given a name tag at registration. Please wear it at all times. Remember you will need it for both days. The name tag will designate you us a special visitor, and you will get the utmost respect. Please stay in groups or pair off.
Student Testimonials
Dear Mr. Ron Thomas and Staff, Thank you so much for allowing Newnan High School to participate in your wonderful program. It was a really great experience and everyone learned so much. It was a great way to help us decide where we stood on the issues in our world. The whole trip was successful and we are very grateful for having been a part of it.
Signed: Kristen Adams, Ashley Baker, Anthony Bush, Catherine Cranford, Henry Colomb, A. Connoy, Leanne Dunn, Patrick Exner, Kate Gallagher, Lindsay Graner, Jeremy Martin, Carly Moser, Hannah Murray, Rachel Robertson, Wen Thomas, Alex Teal, Haley Todd, Joshua Tuck, Jessica Yates
Promote Georgia Close Up
1. Encourage members of your community to volunteer at our conferences.
2. Ask a Georgia Close Up representative to host a presentation at your school or local community center.
3. Engage in conversation with your peers, friends, and family members on the issues discussed at your workshop.
4. Sign In/Up and become a fan on Facebook!